Spotlight on a retrofit project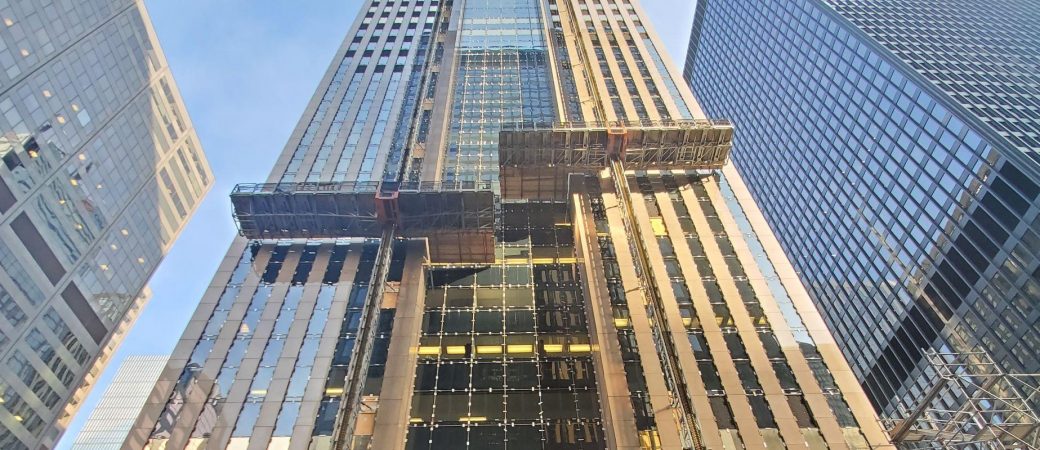 Where? 121 King Street West in Toronto, Canada
THE CHALLENGES OF RETROFIT PROJECTS
In general, retrofit glazing construction projects pose a few challenges. Brandon Lewis, Project Manager at C3 Specialty Glazing Solutions shares his insights on these types of projects.
Riskier for the constructor
Whenever you are dealing with old buildings, you don't know what you're going to find. A lot of investigation and due diligence is required to minimize the risk as much as possible.
Reverse-engineering of rubber components
Second, and more related to re-glazing projects, you must design a new curtain wall or glazing system that will be compatible with the existing curtain wall system or building envelope. Often the existing gaskets, silicone, rubber, etc. have been in place for 30 years or more. So, you essentially need to reverse-engineer these components and either make additions to or replace the components with ones that will enhance the performance of the system.
Managing retrofit activities in an occupied building
Many retrofit reglazing projects involve an occupied building. Displacing tenants is a costly solution, so the best course of action is to try to work around them while minimizing the intrusiveness of the work on their space. That often means working outside of regular business hours.

ABOUT THE PROJECT
C3 Specialty Glazing Solutions
Founded in 1973 in Brampton, Ontario, C3 Specialty Glazing Solutions has developed a niche expertise in glass and curtain wall retrofit projects. The company is gaining growing recognition for its accomplishments and expects to work on incrementally large and complex commercial and institutional projects throughout Canada.
The 121 King Street West project owned and operated by BentallGreenOak in Toronto, Ontario is one of the largest projects C3 Specialty Glazing Solutions has ever undertaken. It is also one of the reasons, Brandon Lewis, Project Manager, joined C3 as he already had experience with the project from a previous endeavor.
Unpredictability means complexity
The relative unpredictability of this kind of project adds a certain level of complexity. In a city like Toronto, there are many challenges that may require creative solutions, like accommodating the underground PATH which runs through the downtown core. Overcoming these obstacles to successfully complete a project requires a lot of planning and coordination to allow for the necessary equipment to perform the job safely and efficiently.
Site access infrastructure
More specifically, one of the biggest obstacles C3 Specialty Glazing Solutions has faced with the 121 King Street West project is the engineering and erection of the site access infrastructure. This access infrastructure includes scaffolding, swing stages, and mast climber equipment. The specific use of this equipment is critical for C3 to complete the project.
Choosing a gasket manufacturer that understands flexibility
Having previously worked with Vicone, Mr. Lewis was confident that the company was up for the task. Besides, Vicone understands that retrofit projects demand ongoing communication and a high degree of flexibility.
"There aren't that many Canadian suppliers that provide the type of custom gaskets we require for our projects. I've dealt with some of Vicone's larger competitors on previous projects. Like everyone else, these companies are very busy, and often their level of customer service is lacking. Vicone, on the other hand, is always responsive and I feel like they effectively communicate and provide a level of customer service that I can count on. They also offer competitive pricing and flexible lead times," concluded Mr. Lewis.

A GREAT PARTNER FOR THE FUTURE
Vicone is proud to contribute to the success of C3 Specialty Glazing Solutions and to support their goal of becoming Canada's leading curtain wall retrofit company.
The 121 King Street West project is already opening new doors for C3 Specialty Glazing Solutions, a sign of the beginning of a fruitful relationship.
ABOUT VICONE
Since 2004, we have been designing and manufacturing custom rubber parts for companies and industries around the world.
Need custom rubber parts?
Let's start a conversation! Tell us about your project and we'll explain how we can help. Contact us