Case Study - Glass and Glazing - Vitrerie Laberge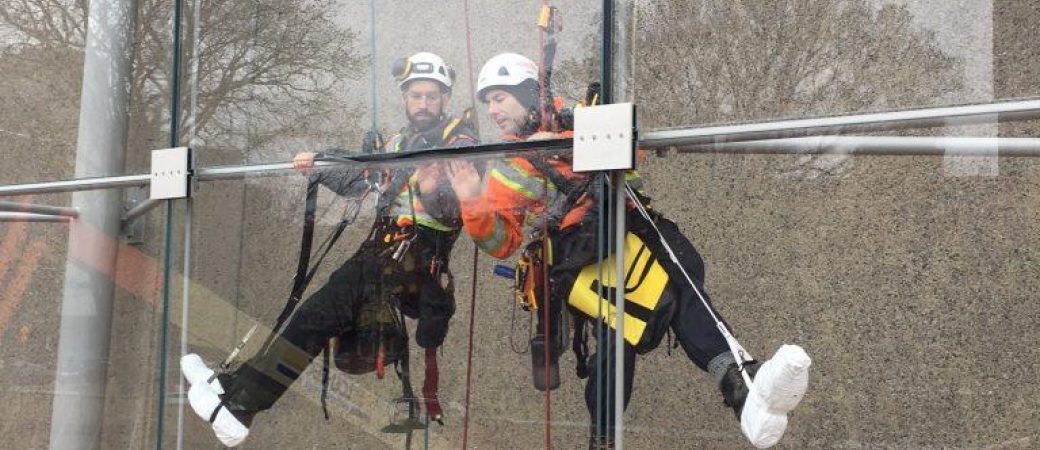 AN INGENIOUS SOLUTION FOR THE DETERIORATING GRAND THÉÂTRE
Vitrerie Laberge, Québec City
Door and window specialist Vitrerie Laberge is part of the Laberge Group, a major private owner and manager of apartment and commercial office rentals that also owns the Canac hardware store chain and the Manugypse construction material distributer.

Protect and accentuate the Grand Théâtre
The Grand Théâtre de Québec was a flagship project in the 1960s that won a national architecture prize in 1964. Yet the iconic building's outer walls were showing wear from time and harsh weather.

The problem of deteriorating concrete needed to be solved while conserving the building's unique look and character.

After evaluating several proposals, the Grand Théâtre decided to build a glass wall about two meters from the existing exterior wall, around the entire building. The Grand Théâtre will literally gain a second skin: a glass casing of some 900 giant glass panels each weighing between 700 and 1,000 pounds.
A complex project
To complete the project successfully, technical directors Patrice Ouellet and Jean-François Berthiaume, and site foreman Steeve Veilleux had to double their ingenuity.

Vitrerie Laberge usually works with 12 mm-wide window seals, but the profile needed to be 31 mm for this project given the panels' size and weight. The profile itself was an enormous challenge in terms of both efficiency and safety.

Ouellet explained, "This type of seal is very difficult to make. First, the profile has to work with the sealant used on the exterior and has to have stable properties even in a wide range of temperatures (from -20 to +80 C). That's why we chose silicone. Secondly, the engineers determined that it had to absorb 7 mn of expansion and contraction caused by thermal effects, seismic movement and structural movement under load conditions. We had to take all that into account, plus knowing that the dimensional tolerance for manufacturing and installing glass panels is +/-2 mm."

The installation posed yet another challenge. Since the new glass wall would be right in front of the concrete wall, it wouldn't be possible to get between the concrete and glass with a boom to place the silicone seal.

And that's why Vitrerie Laberge hired rope-access workers. But they couldn't hold the entire roll of seal, so it had to be precut and hung on either side of the glass. All the workers had to do was place the precut seal

Why chose Vicone?
After researching the profiles on the market, Ouellet quickly realized that designing a tailor-made profile would be the only option.

He contacted several companies and received two or three compliant bids. Some of the suppliers were either in Germany or the United States, which could have affected the manufacturing and delivery timeline, but with Vicone, contact was established very quickly.

"We gave Vicone a first drawing. The trial run was inconclusive, but with Vicone's help, we could see how the silicone profile would respond, so we were then able to modify it to make the right version," he said.

Vicone's geographic proximity also played in its favour, as one of the architects and engineers' requirements was to conduct a test with a full-sized sample. When Vicone gave them a model seal, they were completely happy with it, from both a technical and aesthetic standpoint.

A project that builds opportunities
Even though it is still underway, the Grand Théâtre project is a great selling point for Vitrerie Laberge, especially since the company started out in residential glazing.

"The Grand Théâtre project shows that we can carry out very complex projects. We benefited from Vicone's experience and are convinced that this project will open the door to other opportunities," concluded Ouellet.
ABOUT VICONE
Since 2004, we have been designing and manufacturing custom rubber parts for companies and industries around the world.
Need custom rubber parts?
Let's start a conversation! Tell us about your project and we'll explain how we can help. Contact us